Pickens High School

Pursuing Higher Standards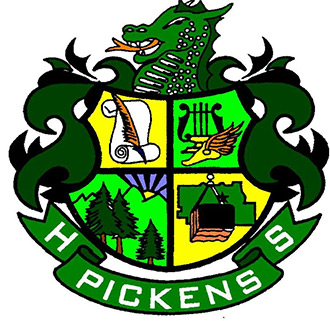 The Mission of Pickens High School

"Help all students realize their potential by providing the best educational situation possible".
We believe…
Student learning is the primary goal of the school
Students' learning needs should be the primary focus of all decisions affecting the school.
Parent, students, educators, school board and councils, and the entire community are responsible for implementing and achieving the school's goals.
Each student is a valued individual with unique physical, social, emotional, and intellectual needs and may require special services or resources.
A safe and physically comfortable environment promotes student learning.
A student's self-esteem is enhanced through developing and sharing mutual respect among students and staff.
Challenging expectations and a supportive environment increase individual student performance.
Students learn best when they are actively engaged in the learning process.
All students can learn, achieve, and succeed when provided developmentally appropriate learning activities.
Cultural diversity increases student understanding of different people and cultures.
Important Notes from PHS:
SENIORS:
The Counseling Office is proud to announce the two following scholarships
that are now available.
Pickens County Board of Realtors
and
American Legion Post 149
(Eligibility requires parent to be a veteran)
Applications can be picked up outside the counseling office.
Click here to access the Bent Tree Scholarship information

Turn your completed forms into Miss Anna in the Counselor's Office.
SAT and ACT Dates for 2017-2018
PHS WILL BE THE TESTING SITE FOR ALL SAT DATES